Video courtesy of Kongo Central Gouvernorate.
SOCIEUX+ in the news: In support of universal health insurance coverage in Kongo Central

SOCIEUX+ is supporting the Division of Public Health and Social Affairs of the Kongo Central province, in the Democratic Republic of Congo (DRC), to conduct a feasibility study for the establishment of a compulsory and universal health insurance mechanism within the province.
To this end, SOCIEUX+ is facilitating exchanges between national partners, namely the Provincial Health Division of Kongo Central and the mutual health insurance provider Musakis-Fass, and European experts in the field of health system financing, governance, and healthcare delivery.
These missions are meant to address, in cooperation with local partners, three key areas in the establishment of a viable health insurance scheme in the province: 1) the context (health conditions of the population and their needs for public health services); 2) the financial feasibility; and, 3) the current organization and operations of the health insurance system.
In April 2021, an initial pair of public sector experts, Daniel Bouquet and Martine Conin Pomares, conducted a context study assessing healthcare needs and demands, the supply of care, system integration challenges, and other areas of interest.
In August 2021, a second mission was conducted to define the financial framework of the prospected insurance system. Two European public sector experts participated in this mission; Marie-Caroline Clément, a specialist doctor and project manager at the Technical Agency for Information on Hospitalization (ATIH), and Hervé Gramond, Accounting and Financial Director of UGECAM Alsace (a network of health insurance institutions) from France, in collaboration with Mr. Innocent Mbala Nosa, director of the mutual health insurance provider Musakis Fass.
The delegation, led by the Provincial Minister of Health, Dr. Crysoli Mawete, was received on 23 August by the Governor of Kongo Central, Mr. Atou Matubuana. The Head of the Health Division of Kongo Central, Dr. Jacques Kimfuta, also took part in the meeting.
The peer-to-peer cooperation between SOCIEUX+ and the Kongo Central Division of Health will continue throughout 2021 and into early 2022 with two more activities focused on the operational conditions for the deployment of health insurance and the preparation of the final draft of the feasibility study.
(SOCIEUX+ 2020-06 DRC)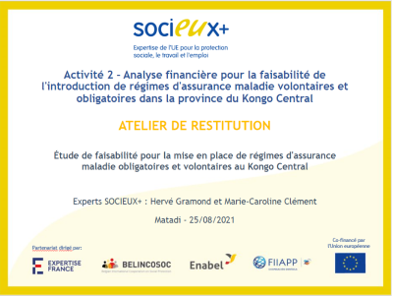 Restitution workshop: Financial analysis for the feasibility of introducing voluntary and compulsory health insurance schemes in the Kongo Central province of the Democratic Republic of Congo. (SOCIEUX+ 2020-06 DRC).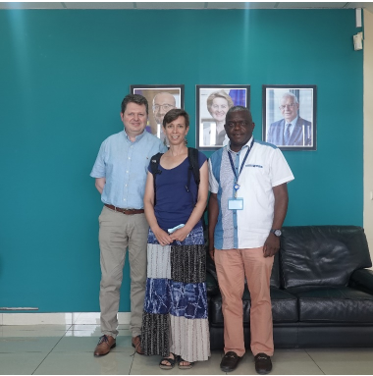 Initial meeting at the European Union Delegation offices in the Democratic Republic of Congo. From left: Hervé Gramond; Marie-Caroline Clément; and Michel Mulohwe Mwana Kasongo, Health Project Manager at the EU Delegation. (SOCIEUX+ 2020-06 DRC).