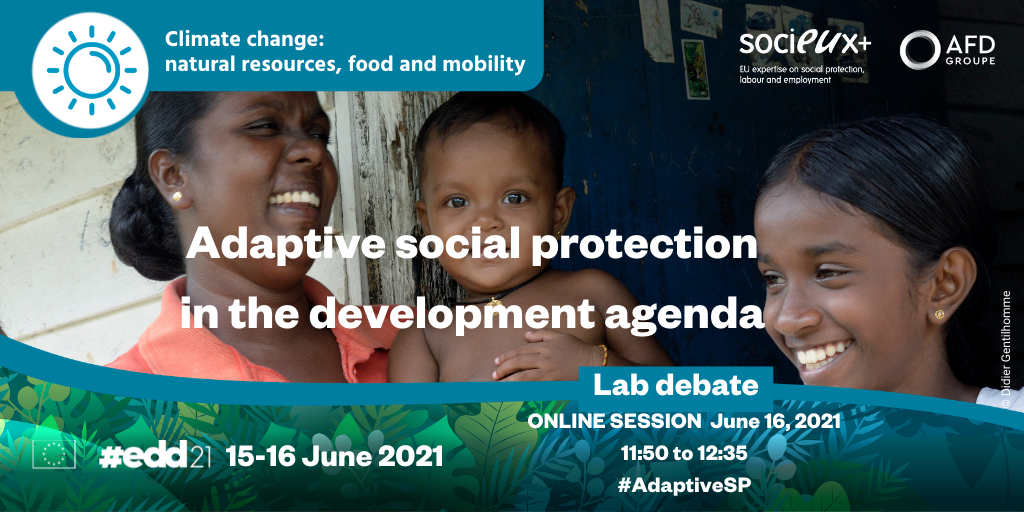 Information on the SOCIEUX+ Meeting
Adaptive social protection systems combine policies and techniques from social protection, climate change adaptation and disaster risk reduction (DDR). With this approach, social protection programs become more flexible, can quickly be extended to populations affected by shocks and reinforce households' resilience. Yet adaptive social protection is not systematically included in development strategies, be it in Nationally Determined Contributions (NDCs), social protection or DDR strategies.
This session will bring together experts from these different fields to discuss how adaptive social protection can be put at the forefront of the policy agenda to help households and communities anticipate, absorb, and recover from climate shocks.
Speakers:
Koen Vleminckx, Knowledge Development Co-ordinator of SOCIEUX+, Director of Research and International Cooperation at the Belgian Federal Ministry of Social Affairs, and Director of Belgian International Cooperation on Social Protection (BELINCOSOC). 
Jean-Louis Lambeau, Social protection expert at the ILO, offers over 30 years of engagement in development and humanitarian projects in Latin America, in Africa and in Asia.
Guillaume Bouveyron (AFD), Disaster Risk Reduction expert and global lead at Agence Française de Développement (AFD).
Verhonica Zamudio (CISS), Researcher at the Interamerican Conference on Social Security (CISS), specialized in social risks linked to climate change, such as disasters due to threats of natural origin, as well as in the preparation and response of health services in case of emergencies and disasters. 
Carlos Soto Iguarán (AFD), Expert and Team Leader at Agence Française de Développement (AFD).