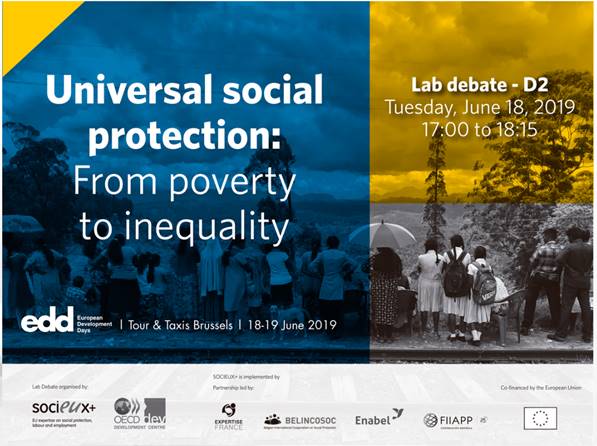 Information on the SOCIEUX+ Meeting
Universal social protection: From poverty to inequality
How social protection in developing countries is evolving as a driver of inclusive growth,  not just a safety net for those left behind
The global poverty rate fell from 36 % in 1990 to 10 % in 2015 by a billion people. At the same time, inequality rose across the world, particularly in China and India, which have driven the decline in global poverty. Social protection is playing an increasingly important role in reducing poverty thanks to higher coverage, better programmes and greater financing. Its potential as a mechanism to reduce inequality is under-utilised, even though it is widely accepted as a key component of inclusive growth strategies. Participants will explore whether to expand the focus of social protection to include inequality and achieve Sustainable Development Goal 10 reducing inequality within and among countries.
Speakers
MODERATOR: Alexander Pick. Economist. OECD Development Centre.
Teresa Munzi. Director of Operations. LIS Cross-National Data Center in Luxembourg.
Audrey Le Guével. Programmes and Operations Officer. International Labour Organization.
María Gladys Valero Vivas. Directora General. Instituto para la Economía Social.
Dharendra Wardhana. Deputy Director on Social Protection. Ministry of Planning, Indonesia.
Koen Vleminckx. Director. SOCIEUX+ EU Expertise on Social Protection, Labour and Employment.