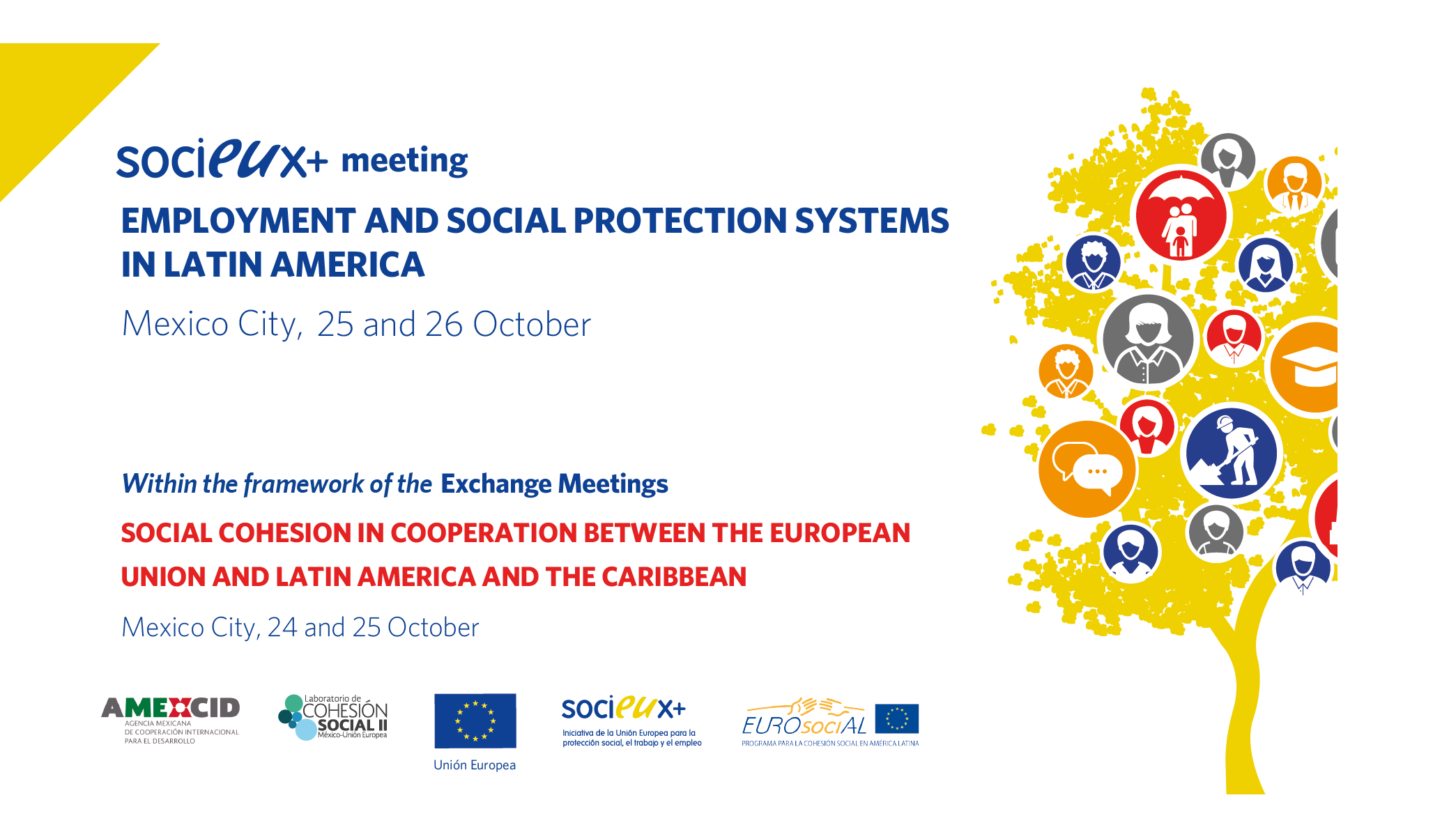 Information on the SOCIEUX+ Meeting
Employment and Social Protection Systems in Latin America
From 25 to 26 October, Mexico City hosted the SOCIEUX+ Meeting, the first peer to peer meeting on employment and social protection. The meeting was framed within the México-European Union Exchange Meetings for social cohesion organised by the European Union Delegation in Mexico together with the Mexican Agency for International Cooperation for Development (AMEXCID).
Although SOCIEUX+ has provided technical assistance to more than 38 countries and carried out a total of 131 activities with special emphasis on the extension and systematisation of social protection systems, the informal economy and the quality of public employment services, the need for peer meetings was identified to allow a greater dissemination of the knowledge generated. This need led to this first regional meeting in Latin America. The SOCIEUX+ meeting was conceived in line with the spirit of the initiative, which is to support the development of capacities of EU partner countries in the design, management and supervision of inclusive, effective and sustainable employment strategies and social protection systems, the meeting being a space for discussion and dialogue and exchange of knowledge between peers.
The SOCIEUX+ Meeting brought together more than 100 participants, including a selection of delegates from Latin American countries as well as representatives of European countries and institutions. These experts and representatives were able to discuss the current state of public employment policies and social protection systems in both regions. The work carried out at the meeting was based on the different actions implemented since the beginning of SOCIEUX+ and the EUROsociAL programme in the region and worked in depth on key issues for Latin America.
One element to be highlighted was the work carried out around the synergies between the different European programmes working on social cohesion, as well as the reflection on the future of international cooperation in the region. This reflection was carried out under the auspices of the European Union Delegation in Mexico, AMEXCID, and in collaboration with EUROsociAL+ and the Social Cohesion Laboratory II.
See the Meeting highlights for further information.